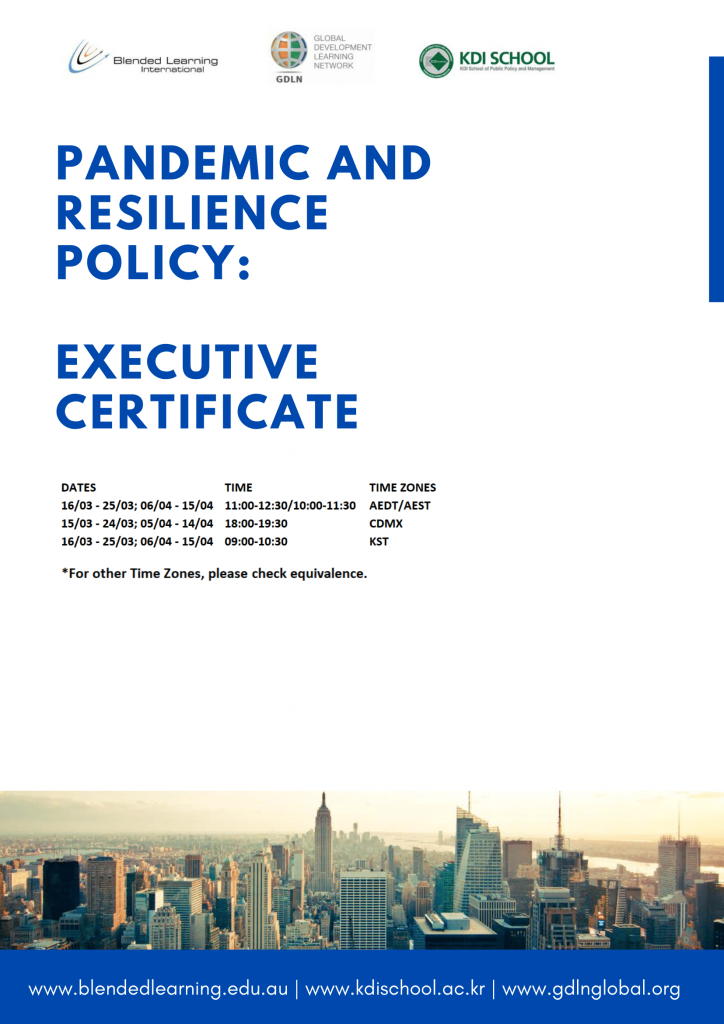 WHY THIS COURSE?
GDLN is helping to support an Executive Education Certificate as a new initiative. It is working with KDI School and Blended Learning International for this. The focus is Pandemic and Resilience Policy.
COVID-19 has been devastating for lives, economies, and societies around the globe. Countries everywhere are still grappling with the pandemic and its consequences. More broadly too, we can see new attention being paid by government, community, and business leaders in every country to resilience challenges. This course will equip participants to engage more effectively with the demands of resilience planning for crises.
The Executive Certificate course is to be delivered online in twice weekly sessions over four weeks with a middle break . Each of these sessions is 90 minutes (45 minutes Framework Sessions + 45 minutes Application sessions). The Certificate award is to be based on course participation, but no assessment is required at this executive level. The course has been designed to meet standards set by the Korea Development Institute.
The course follows a successful initial delivery of the course in October for the Asia-Pacific (and again in November for Africa, Middle East, and Eastern Europe) and builds on GDLN's highly regarded webinars on the pandemic in March and April of 2020 (see gdlnglobal.org/covid-19/).
COURSE CONTENT AND APPROACH
The course is to be delivered live online. It is being coordinated by ANU Professor Glenn Withers, GDLN Global Board Chair. The presenters in the October and November courses included the following professors from Australia, Korea, and Singapore: Peter Collignon, Ramesh Thakur, Sangwoo Tak, Jo An Atkinson, M. Jae Joon, Jayant Menon, Greg Austin, Helen Dickinson and Glenn Withers.
Each ninety minute session provides first a framework for resilience followed by an expert application from the experience of the current crisis.
Upon completion of this course, participants will be able to understand the:
International and national approaches in pandemic and resilience policy,

Importance of multi-dimensional analytic approaches (health, economic and social),

Centrality of the human perspective,

Linkage between first response, initial recovery, and longer term regeneration,

Lessons of success and failure in resilience policy, and

Commonalities in resilience policy for quite distinct threats: cyber, pandemic, and climate change, among others.
CERTIFICATE TOPICS*
(FS: Framework Session, AS: Application Session)
WEEK 1
March 15th/16th
March 17th/18th
FS2:

Modelling and Data Analysis

AS2:

 Pandemic Modelling and Policy

Participant Introduction
WEEK 2
March 22nd/23rd
FS3:

Communication and Leadership

AS3:

Korea's Agile-adaptive Approach
March 24th/25th
Holy Week Break: March 29th – April 2nd
WEEK 3
April 5th/6th
FS5:

Interdependence, Systems and Simulation

AS5:

Public Health Knowledge and Mixed Methods Research
April 7th/8th
AS6:

Comparing Country Experiences

FS6:

Economic and Social Dimensions
WEEK 4
April 12th/13th
FS7:

Designing Renewal and Reconstruction

AS7:

Social Health and the Pandemic
April 14th/15th
FS8:

Scenarios for Technology of the Future

AS8:

Pandemics and Cyber-Security

Course Evaluation
*Subject to final confirmation.
CONFIRMED PRESENTERS
Professor Greg Austin, IISS Singapore and Social Cyber Group

Professor Nicholas Beddle, Centre for Social Research and Methods ANU

Dr. Gisselle Gallego, University of Notre Dame Sydney

Prof Otto Granados, President, Advisory Board, Ibero-American States Organization for Education, Science and Culture, Former Minister of Education, Mexico.

Professor Yun Haiyoung, KDIS

Ms. Lisa Materano, BLI, Australia

Professor M. Jae Moon, Yonsei University

Professor Manuel Pérez-Jimenez, Dean of Medicine, and Health Sciences, North Region at Tecnológico de Monterrey

Professor Laura Ruiz, Tecnológico de Monterrey

Professor Sangwoo Tak, Seoul National University

Professor Glenn Withers, ANU
Remaining presenters to be confirmed.*
12 HOURS FACE TIME
DELIVERED OVER FOUR WEEKS BY ZOOM
SCHEDULE AND FEES
Course dates:
15/16 March – 24/25 2021;
5/6 APRIL – 14/15 april 2021
(MEXICAN/ASIA PACIFIC TIME)
SESSIONS HELD MONDAYS AND WEDNESDAYS CDMX (TUESDAYS AND THURSDAYS FOR MANY OTHER TIME ZONES).
The full certificate fee is $750 AUD for individual participants.
For group enrolments, information will be provided upon request. For more information contact Lisa Materano as indicated below. Full fee enrolments are available up to commencement.
KDI scholarship applications to cover the full fee are available to selected participants. Please contact Lisa Materano as indicated below for more info. Scholarship applications close 5th of March 2021.
Course Delivery Times*
11:00 – 12:30 AEDT/

10:00 – 11:20 AEST

18:00 – 19:30 CDMX

12:00 – 13:30 FJT

09:00 – 10:30 KST

07:00 – 08:30 ICT

07:00 – 08:30 WIB
*Selected Illustrative Times. Check other locations for equivalent.
Related resources for the course can be found at:
ENROLMENT INFORMATION
For more information and enrolment assistance, please contact:
LISA MATERANO
Mobile & WhatsApp: +61 438 134 558
WeChat: LisaMaterano